Campsite Water Park: 2017 pools
What's new at your favourite campsite's water park? Located in the beautiful Var area, French Riviera-Côte d'Azur, our campsite features a 2,000 m² water park with two new heated pools for a guaranteed fabulous spring or summer holiday in the South of France!
… Make the most of the campsite's two new heated pools in addition to our water slides, main heated pool and children's paddling pool! Ideal for a family holiday, our vast water park promises to delight campers of all ages!
If you're holidaying in May, you'll appreciate the comfort of our heated pools, promising a truly delightful camping holiday in the Var, French Riviera-Côte d'Azur. And if the summer evening temperatures are a little chilly (yes, it can happen!), you'll love splashing around in water heated to the perfect temperature…
Thrills & spills fans are sure to adore our 4 water slides, but if you're seeking relaxation, opt for a some welcome peace and quiet in our Zen space complete with massage jets and a jacuzzi. The perfect place to chill!
Our new heated pools for adult campers are peaceful, dedicated areas promising a soothing holiday experience in Provence!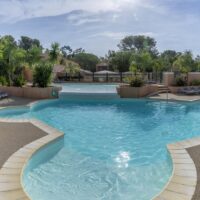 After a day out hiking in the hinterland, a sporty morning or if you simply want to relax, our whirlpool baths and massage jets soothe away tension and ease tired muscles. We are committed to ensuring this space is reserved for adults, so your quiet time won't be disturbed. Clear your mind, put your worries aside and simply let the cicada song cradle you… What else?!
Take time to take a break and pamper yourself while your children enjoy our water games and children's clubs! Our family campsite is designed to be absolutely safe and offer something for everyone, from our water park to a variety of sporting, artistic and cultural activities and entertainment. And if you fancy getting out and about, our campsite team is always thrilled to share their insider's addresses in the Var, French Riviera-Côte d'Azur with guests. You'll also find them in the Nos Coins de Paradis® (Our Corners of Paradise) section of our website! A great opportunity to explore the region's many treasures and forge forever memories to take back home…
More exciting news at the campsite!
If you fancy a refreshing drink or snack when you get back to the campsite, you'll love our brand new refreshment stand (in place of the pizzeria), plus our new solariums basking in the Var sunshine or nestling in the shade (thanks to our campsite's exceptional vegetation, you'll find plenty of welcome shade under veteran trees here). Just imagine lying back on a campsite sun lounger, letting go and enjoying the view… Tempting isn't it? We promise you won't want to leave!
We are committed to ensuring everyone enjoys a tranquil holiday with us, so last but not least, reduced-mobility guests benefit from an accessible toilet next to the refreshment stand. Our campsite is a proud holder of the Tourism & Handicap label and we offer PRM accommodation, plus a fully-accessible water park (excluding water slides).
Happy camping on the Côte d'Azur at Camping de La Pascalinette!