A four-star campsite next to Hyères-les-Palmiers (French riviera)
Camping 4 étoiles Hyères-les-palmiers (Var)
The four-star campsite Jardins de La Pascalinette® offers a large selection of mobile homes, fitted tents and tent, caravan and motorhome pitches, together with wood cabins and a "Friends Villa", less than 10 km from Hyères.
Just 10 minutes from your favourite green campsite, discover Hyères and its magical beaches for kitesurfers (Plage de l'Almanarre) and families (La Capte and La Madrague). Many offer reduced-mobility access and some bear the "Tourism & Handicap" label.
While you're holidaying at the campsite, Hyères offers a host of activities for all the family including entertainment for the kids.
Hyères is home to an impressive 4 "Remarkable Gardens" and, just like the campsite's Botanical Footpath, invites you to discover many exotic tree and plant varieties…
Hyères is also an official "Town of Art & History" and home to Roman remains (Olbia archaeological site) that our campers love exploring.
It is also a fabulous destination for scuba divers and snorkellers, with a snorkelling trail suitable for all the family, ancient wrecks and underwater remains…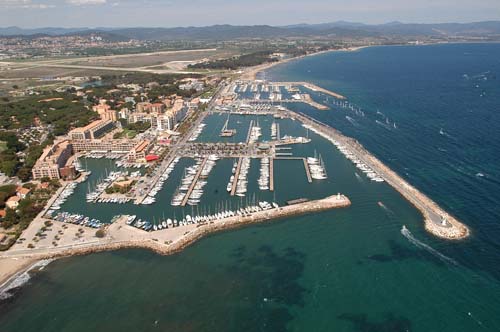 Ideally situated a stone's throw from the campsite, Hyères has so much to offer, including a beautiful medieval quarter, charming port, parks & gardens, migratory birds, ancient salt marshes and luxuriant palm trees (thousands are planted in the town and cultivated in local nurseries), plus, of course, the stunning Golden Islands of Porquerolles, Port-Cros (home to a national park of the same name) and Le Levant.
The inhabitants of Hyères are referred to as hyérois.
Located immediately adjacent to Hyères, the campsite offers:
Mobile homes of every size for your holiday on the French Riviera: for couples (mobile homes with one room, with or without air-conditioning), families (2-3 rooms for 4-6 guests), large families or groups (villa concept, with 2 mobile homes for a total of 10 guests) and handicapped guests (fully fitted and air-conditioned reduced-mobility mobile homes for up to 5 guests, with access ramp and adapted bathroom and furniture);
Novel accommodation for groups or families (5 wood cabins for 2 guests, independent sanitary block and kitchen);
And of course, we also offer a great choice of tent, caravan and motorhome pitches for nature enthusiasts!
Our four-star campsite boasts exceptional vegetation and a large water park with games, 4 heated pools and water slides under the sunny skies of the Var area.