One of France's best campsites according to the ADAC guide
Our four-star campsite Les Jardins de La Pascalinette ® in the Var area, French Riviera-Côte d'Azur, is delighted to announce that we have just won the title of "ADAC Superplätze"!
Awarded by the Germany's benchmark camping guide ADAC, the 5-star "ADAC Superplätze" title – the highest distinction of them all – rewards only the very best campsites in France. We are proud to be one of them!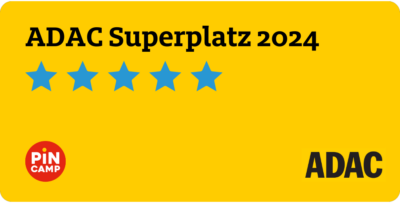 Every year since 2014, we have been thrilled to share our progress in the ADAC Top 100 list of best French campsites with our campers. In early 2023, we obtained the very-honourable mark of 4.5 out of 5 stars: a rating rewarding the presence, variety and quality of our campsite amenities designed to improve guest comfort. Our brand-new, fully revamped restaurant, new children's playground, private sanitary facilities added to numerous caravan plots, new luxury accommodation (Quintessence ® range), new mini market and other new amenities on offer since summer 2023 (check out the full list in our Campsite news section), have now earned us the coveted 5-star "ADAC Superplätze" distinction, awarded further to a surprise inspection in June 2023.
Importantly, only 47 campsites in France are holders of this distinction, out of over 1,000 French campsites referenced by the ADAC! So we are naturally over the moon to see that our hard work is paying off and our efforts to offer our guests an ever-better welcome are bearing fruit!
We would like to warmly thank the members of the ADAC jury, together with all the loyal campers who encourage us to pursue our quest for guest satisfaction and overall excellence every year.