A campsite complete with wifi in the Var, French Riviera-Côte d'Azur
Are you a fan of green camping but not without Internet? It may seem like a paradox, but that's the dilemma of the modern camper! Fear not… If you're a victim of nomophobia or simply can't do without digital, we've got your back!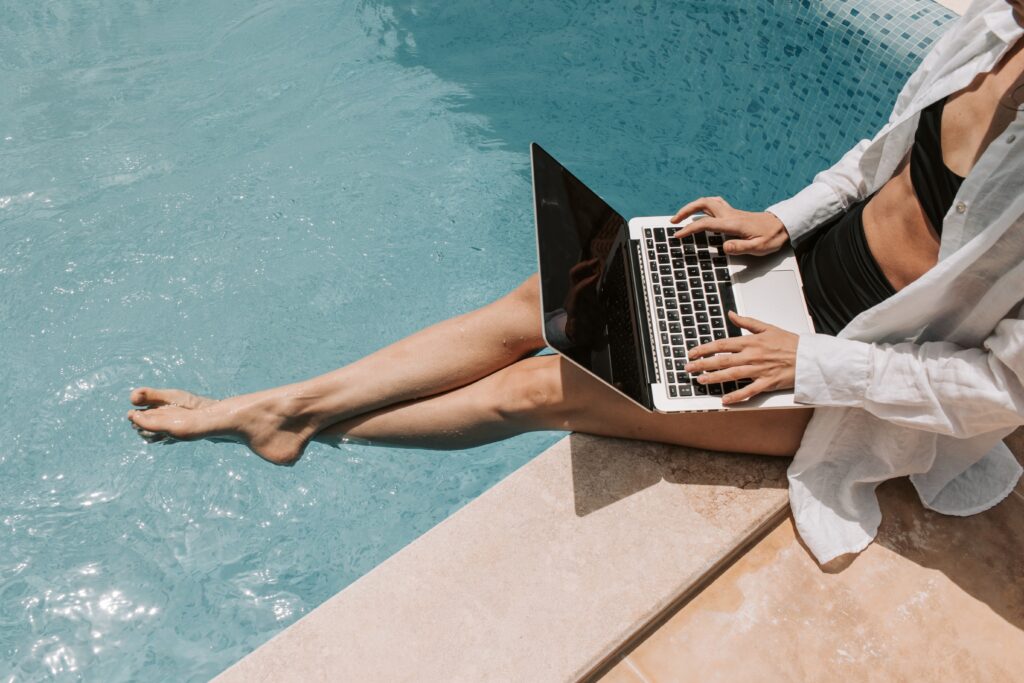 Even while you're holidaying in the Var, French Riviera-Côte d'Azur amid our exceptional vegetation, you'll always be able to stay connected to the "outside world" thanks to our amenities. Our campsite has its very own wifi and it's even free if you opt to stay in an Îles d'Or® mobile home! Other campers can nevertheless benefit from the service too – simply head over to the campsite Reception and our team will tell you all about the various offers available and the password you need to enter on your device.
Need to finish off a file? Or send an urgent email? Our wifi offers are the ideal solution for campers who unfortunately have to keep up with work while they're away (even so, make sure you ease up and relax… Holidays are after all SACRED!).
Sit back on your terrace with your laptop and a refreshing drink, against a backdrop of chirping cicadas.. You might even enjoy doing a spot of work while you're with us!
Never without my wifi !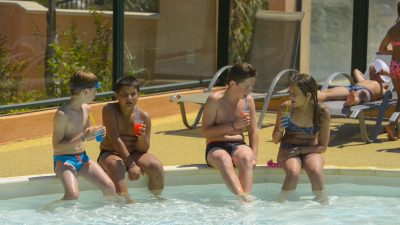 We welcome teenagers to the campsite too, so we know how much they dread being cut off from their mates even for a few days – especially when they're far from home. But you won't need to worry about them either! They'll be able to stay connected and continue browsing as much as they want, although we bet our 2,000 m² campsite water park, heated pools, 4 water slides and water games area will soon get then unhooked from their phone! 😉
Stay in touch with your nearest and dearest
The campsite's wifi service also means you can share the highlights of your camping holiday in the Var, French Riviera-Côte d'Azur in real time! No need to wait until you get home to upload your photos on social media and no point downloading films before your holiday – you can do it all on site thanks to our high-quality Internet connection. Give your friends a taste of your stay at our four-star campsite by posting your stories directly on Instagram, Facebook or Snapchat. But beware, you might make them green with envy! Don't want to wait to post your latest pool choreography? Can't wait to share your archery feats live or offer your friends and family a virtual tour of your magnificent mobile home? It's all possible thanks to your campsite wifi connection!
Online bookings, GPS for your walking tours and more
If you fancy a change of scenery and delving into Provence's gastronomic fare – despite the delicious menu on offer at the campsite restaurant! – you can easily book online thanks to our Internet access. Fancy a hike in the Var hinterland and want to plan your excursion? No problem either! And how about checking out the many touring suggestions on our website? Easy!
Disconnecting for a few days can truly help you and your children relax and get away from it all, but if you simply can't do without the Internet, we're always keen to cater to your needs – and wifi is part of our service.
Comfortably seated in your mobile home, on the restaurant terrace or next to the campsite water park's heated pools, you can always stay in touch thanks to our fast and easy wifi coverage.
Like we always say, your comfort is our priority!