Discover our CocoSweet® fitted tents!
A tent that's ready-to-use? And fully-fitted too? Look no further!
All you have to do is put down your luggage and relax!
A novel, budget-friendly solution for 4 guests
If you love camping but don't fancy struggling to put up your own accommodation, you'll love our authentic stress-free nature camping solution. Craving the adventurous spirit of a canvas tent but don't want to relinquish your home comforts? We have everything your need! Our Coco Sweet® tents are already pitched and fully kitted out, to ensure you save plenty of time while relishing a comfortable, back-to-nature camping experience.
Your kids will love staying in our novel fitted tents, while parents will of course appreciate the comfort of a genuine bed plus the advantages of an affordable camping break on the Côte d'Azur. Featuring a master bedroom complete with a double bed and second bedroom with two beds measuring 80 x 190 cm, your clan will be able to make the very most of their holiday in the sunshine of Provence right from Day 1!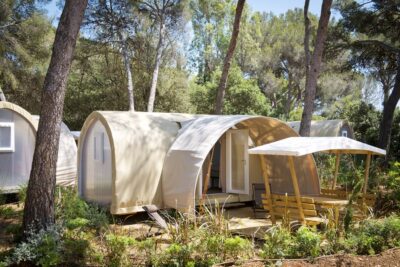 A fuss and stress-free holiday thanks to our turnkey solution!
Treat yourself to a novel holiday promising plenty of fun at our 100% nature campsite! Furnished, insulated and secure, our Coco Sweet® tents offer all the joys of holidaying under canvas, topped with the comfort of a mobile home! Enjoy a camping adventure without wasting a minute – what could be better for your next holiday at our seaside campsite in the Var, French Riviera-Côte d'Azur? Say goodbye to hours spent putting up and taking down a tent when all your kids want to do is jump in the pool! No more overloaded trailers and car boots fit to burst! Everything is ready and waiting for you, including in the kitchen:
fridge,
kettle,
microwave,
electric coffee maker,
electric kettle,
electric hotplate,
table, chairs,
crockery, etc.
You see, we told you we've thought of everything! 😉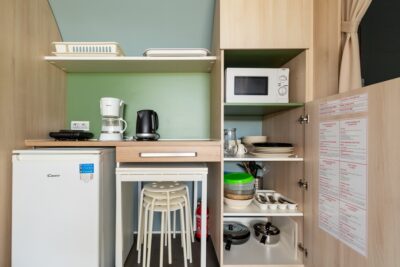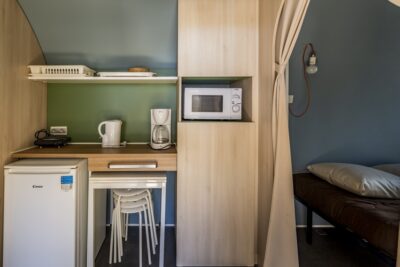 Spacious plots for a holiday with endless horizons!
Our fitted tents are ideally located on semi-shaded plots, so you can choose whether you want to relax in the shade in your little garden or laze on a sun lounger in the Var sunshine, cradled by the sound of chirping cicadas…
Did you know that French regulations require a minimum pitch surface of 80 m²? You won't be troubled by neighbours here, because at our campsite Les Jardins de La Pascalinette ®, our pre-pitched fitted tents are set on plots averaging… 110 m²! Simply sit back, relax and enjoy the privacy!
Outside, you even enjoy your very own private terrace fitted with a table, chairs and sun loungers, plus a little plancha grill for your lunchtime or evening barbecues. Tempted yet? Unless of course you'd rather sit down to eat at the campsite restaurant, where you can savour a delicious mixed salad or the Chef's dish of the day!
All you have to do is slip into your swimsuit and delve into the campsite's packed entertainment schedule and magnificent water park spanning an impressive 2,000 m², promising hours of relaxation and amusement for young and older guests alike. Four water slides, four heated pools including two specially equipped with whirlpool baths that promise to recharge your batteries, plus a paddling pool for tiny tots and large water games area where you'll have plenty of fun while enjoying some welcome refreshment… And those are just some of the tempting treats in store at your favourite campsite Les Jardins de La Pascalinette ® in La Londe!