Our new Premium mobile home range featuring a private pool or jacuzzi
Here at our 4-star campsite Les Jardins de La Pascalinette ® between Hyères and Le Lavandou, we love treating our guests to new surprises every year. And with each new season, we strive to reach new heights of excellence. That's why we're particularly excited to present you our new range of Premium Quintessence ® mobile homes, offering campers a delightful cocoon perfect for relaxing and getting back on top of the world.
Quintessence ® Pool: Premium rentals with private pool – a guaranteed hit with all the family!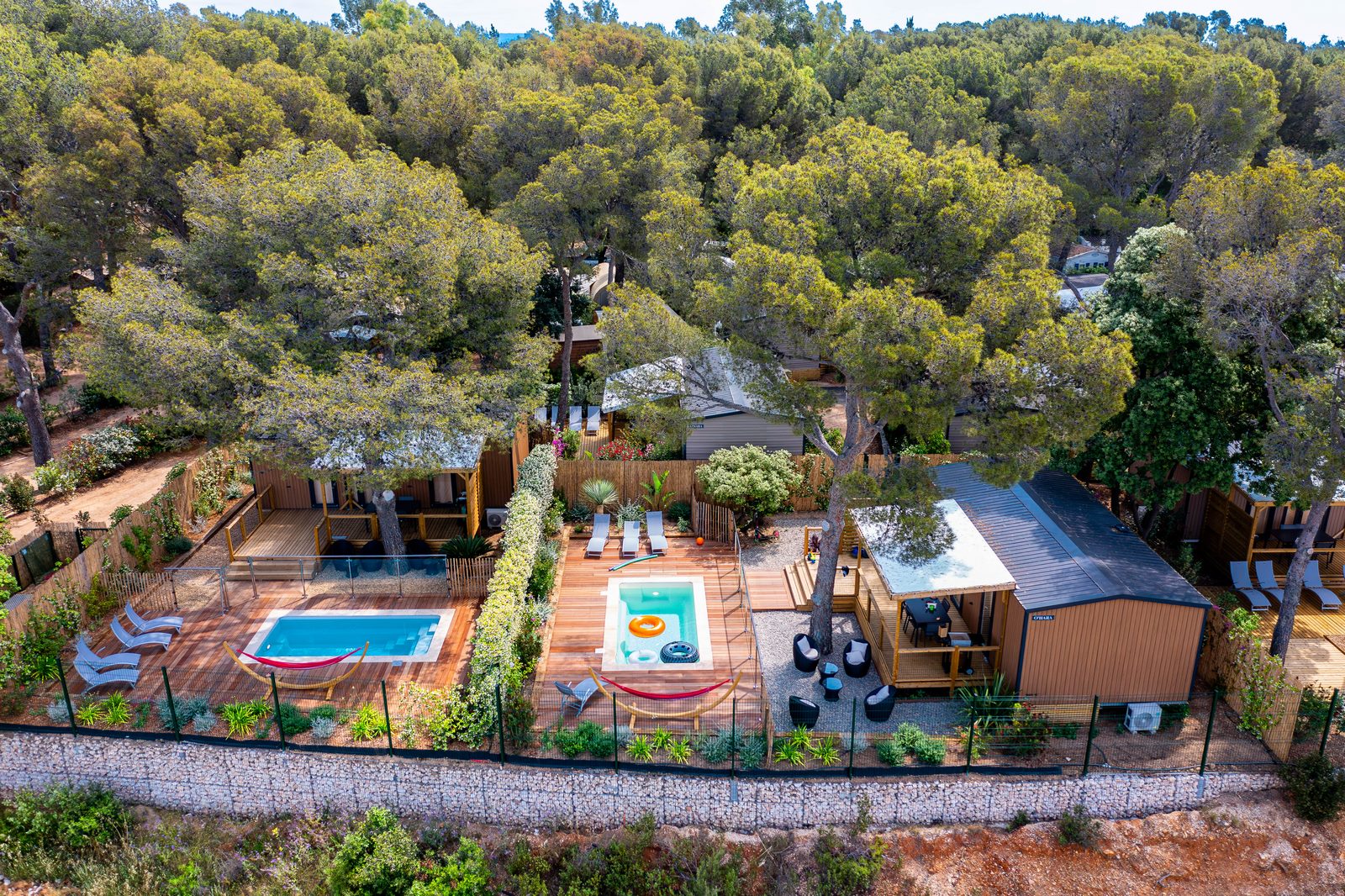 The Quintessence ® range is first and foremost the fruit of a vision… That of a magnificent holiday at a seaside campsite with your very own private pool. The dream became reality in summer 2023, when our very first mobile homes with private pools opened their doors in the heart of the campsite's exceptional vegetation facing the vines, a stone's throw from the beaches of La Londe-les-Maures.
The Quintessence ® mobile home with private pool is a never-before-seen concept for a 4-star campsite! Guests enjoy a heated pool all to themselves, so they can revel in a dip whenever they want – even in the middle of the night if the mood takes them. The stuff dreams are made of!
Of course, having your own pool won't prevent you making the most of the campsite's many amenities, including a giant water park (over 2,000 m² of water games, pools and water slides), restaurant-lounge bar, mini market, games room and activities…
New in 2024 : Quintessence ® Spa mobile homes!
This year we've decided to go the extra mile and extend our deluxe mobile home offering to include the exciting new Quintessence ® Spa with private jacuzzi! Benefiting from the same amenities as its big brother (2 bedrooms, 2 bathrooms, 2 terraces, etc.), this new model features its very own private spa! Until today, only our Villa des Copains ® Friends Villa – our VIP accommodation for 10 guests – offered the luxury of a jacuzzi. But in summer 2024, even families or groups of 4 friends will be able to enjoy some self-pampering too! Get ready for some uniquely relaxing moments in all privacy in exceptional natural surroundings… Here at our 4-star campsite Les Jardins de La Pascalinette ®, we promise you the holiday of a lifetime on the Côte d'Azur !
Don't delay book your next holiday in a Quintessence® mobile home today!