Canyoning in the Var dept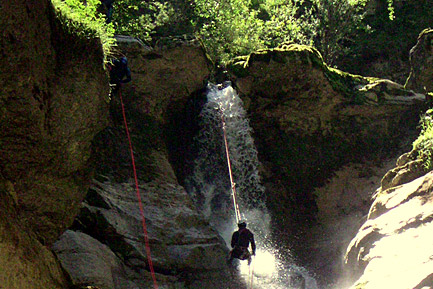 The Var area and Provence overflow with gorges, grottos and rivers that are simply made for canyoning!
Make the most of your stay at Camping de La Pascalinette® to challenge yourself to the adventure! Outdoor sports are fabulous for both the body and mind… Canyoning is similar to a white water sport (although from time to time you will come across dry canyons) and encompasses a host of other outdoor pleasures, including rock climbing, hiking and even potholing!
---
Generally, when you are inside a canyon, you progress in the direction of the water (river bed or stream). Whether you find yourself abseiling, swimming, walking, jumping, whooshing down natural slides or all of the above, the environment always promises to be magnificent, the atmosphere wonderfully friendly and the experience very enriching.

---
There are some canyon trails near the campsite and others a bit further away.
The main ones are located in the Verdon Canyon, with some at the gateway to the Alpes Maritimes region. Some are suitable for families, while others are a little more "tricky"… In short, there's something for everyone!