Abyssinian Banana Tree
Presentation
The Ensete ventricosum, commonly known as the Abyssinian Banana Tree, has long, wide green or purple leaves, lending the campsite a distinctly tropical air! Magnificent and impressive, this banana tree belongs to the "Maurelii" family and originates from tropical Africa, more precisely between Angola and Ethiopia. Like the agave, it is a monocarpic plant, which means that it blooms just once before dying.
It is sometimes referred to as the "false banana tree" as it actually belongs to the Ensete botanical genus (but, like other banana trees, it originates from the Musaceae family).
Bananas anyone?!
Yes and no… Similarly to its "big brother", the Abyssinian Banana Tree produces fruit – little bananas – but they are not fit to eat (Ethiopians only consume the grated "trunk"). It take 4 to 5 years of growth for the tree to produce fruit, but sadly this also means it is nearing the end of its life.
Pretty but fragile!
This perennial but frost-sensitive plant is primarily ornamental (and that's already a big plus!). It appreciates tropical climates and verandas and adores the climate of the Var area! However, it is not very hardy and does not fare well in sub-zero temperatures. The Abyssinian Banana Tree found at our four-star campsite Les Jardins de La Pascalinette® particularly appreciates our warm weather and Mediterranean climate, which is similar to that found in its country of origin.
The Abyssinian Banana Tree doesn't have a trunk per se. Instead, its base is actually formed by the superimposed stalks of each leaf. So rather than using the term "trunk", we refer to this part of the plant as the stem (as for palm trees). In fact, the Abyssinian Banana Tree isn't really a tree at all, it's a giant herb!
Its leaves are perennial and paddle-shaped. They are particularly impressive in size and can grow up to 1 to 3 metres in length! The beauty of the Abyssinian Banana Tree also resides in its colours: its shiny green leaves tinted with purple strike a delightful contrast with their central red vein.
As we saw earlier, the Abyssinian Banana Tree dies as soon as it has produced fruit, but shoots growing from its foot take up the baton when it is cut, hence the tree continues to live on. It can also be grown from seeds (by planting the seeds found in the fruit) and flourishes so fast you'll be sure to have a beautiful new plant by summer!
Like all perennial plants, the Abyssinian Banana Tree rests in winter; its aerial parts dry up and die. But as soon as the campsite reopens its doors in April, it is raring to show off its robes of many colours! Campers who come to stay with us at Easter or during the long weekends in May (for example for Mother's Day! 😉 can therefore enjoy hunting it down and admiring it from all angles as they stroll along our gorgeous Décou'Verte botanical footpath! And campers spending their summer holiday at our campsite in La Londe-les-Maures in the Var, French Riviera-Côte d'Azur will also be lucky enough to see its white flowers grouped into hanging inflorescences measuring 1 to 1.2 metres, blooming inside large red-bronze bracts.
This banana tree variety is grown throughout the world for ornamental purposes, often in large flower pots set out on a terrace, or alternatively as an indoor plant.
Where to find the Abyssinian Banana Tree on the campsite's botanical footpath?
If you're passionate about the plant world and are spending your holiday at our campsite, don't miss a tour of our Décou'Verte botanical footpath! You'll soon see why we boast about our exceptional vegetation! To give you a hand, the campsite has published a botanical footpath plan so you can locate the many different plant and tree varieties growing there. You'll find the Abyssinian banana tree in the Jardin du Levant (n° 22 on the botanical footpath plan). Enjoy your walk!
Identity
| | |
| --- | --- |
| Latin name : | Ensete ventricosum 'Maurelii' |
| Family : | musaceae |
| Genus : | Ensete |
| Species : | ventricosum |
| Color : | Green and purple leaves, white or pink flowers |
| Subspecies : | Maurelii |
| Foliage : | Perennial |
| Port : | Resembles a small tree |
| Height : | 3 to 4 m |
| Flowering : | monocarpic |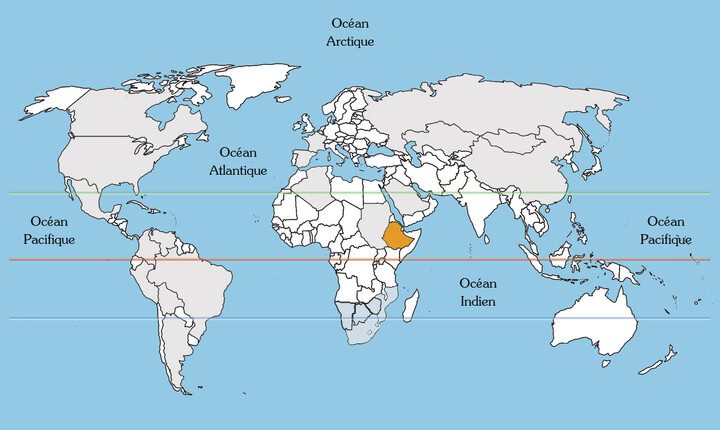 Did you know?
The Abyssinian banana tree is grown in Ethiopia for its edible root which can weigh up to 40 kg.