Budget-friendly camping at discount rates for your holiday in the Var, French Riviera-Côte d'Azur
It's SPECIAL OFFER time! Enjoy a holiday at a discount rate when you rent a top-comfort mobile home at your favourite four-star seaside campsite in the Var, French Riviera-Côte d'Azur How's that for a deal?§
If you're planning on spending Easter or the first weeks of September at our campsite in the South of France, make sure you don't miss out on our MEGA SPECIAL OFFER. Book today and pay less!
Ready to discover our exceptional "6 + 1" offer?
Book 6 nights and get one night free!*
…Yes, you read it right! An extra night so that you can enjoy over a week's holiday at our nature campsite complete with a water park! Our two heated pools, paddling pools, four water slides and many water games (double water cannons, water buckets, water jets and a water bridge) are sure to delight all the family, from the youngest to the oldest! Here at our four-star campsite Les Jardins de La Pascalinette ®, between Hyères and Le Lavandou, we promise you a genuinely relaxing break in the heart of nature!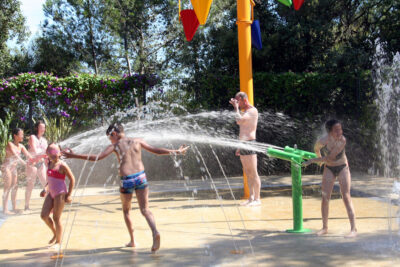 Recharge your batteries, relax and have fun!
7 nights and 8 days – just the right amount of time to get back on top of the world, recharge your batteries and discover the many exciting activities and entertainment opportunities on offer at our campsite. Because our four-star campsite Les Jardins de La Pascalinette ® in La Londe-les-Maures isn't just about lazing around on a sun lounger. You'll find plenty of other things to do here too:
children's clubs (for ages 4-7 years and 8-12 years): entrust your kids to our amazing activities team while you relax in all tranquillity…
Entertainment for teenagers and adults. Put your screens aside and get together for some family games, a wellbeing session or sports tournament. We like to ensure all our guests have a great time!
evening events (dance shows, magic shows, games, concerts, disco evenings, pool parties and more). Get ready for the time of your life!
Plus a host of fun, artistic and sporty leisure amenities (games room, city stadium, botanical footpath, etc.).
What's more, all the action takes place in the green setting of our exceptional vegetation – our pride and joy! We love introducing guests to yet more of the treasures of the Var area thanks to our unique Sentier Décou'Verte botanical footpath, where you can have fun with all the family spotting the many local plant species on show!
In short, we never run out of activities and entertainment for you, whatever your preferences or whim of the day.
Discover the Var, French Riviera-Côte d'Azur with us:
Spending a week at our campsite and wondering what to do in the Var, French Riviera-Côte d'Azur?
Whether you enjoy sporty, cultural or gastronomic holidays, the campsite's reception team is always ready and willing to offer tips on the best places to visit in the Var, French Riviera-Côte d'Azur. The Nos Coins de Paradis ® (Our Corners of Paradise) page of our website offers a complete and regularly-updated list of the must-see sights during your stay on the Côte d'Azur. Hop over and have a look now – we love receiving ideas and suggestions from you too!
Not familiar with Hyères and the Îles d'Or Golden Islands? Fancy a hike, bicycle ride or trek in the Var hinterland? Or how about a spot of diving on one of the local snorkelling trails? You'll find all of the above and much more in the Var area, within handy reach of the campsite. Whether you prefer seaside or countryside, Mediterranean resorts or wild coves, our four-star campsite's privileged location means you can easily live out all your sightseeing dreams! After all, holidays are all about a change of scenery, right?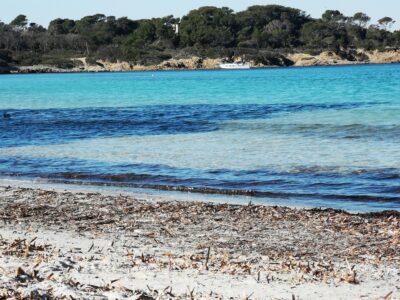 Make the most of the special offer at our budget-friendly campsite and book a stay with your friends or large family today!
Here at your favourite campsite Les Jardins de La Pascalinette ®, we offer a fabulous variety of accommodation to rent for clans of up to 10 people:
Le Coin des Copains ® (Friends Corner) is a novel and economical camping solution for up to 10 guests, featuring eco-friendly wood cabins for the perfect glamping stay and a friendly price! (Re)discover the joys of eco camping on your next holiday!
La Villa des Copains ® (Friends Villa) promises luxury and comfort thanks to two fully-fitted mobile homes topped with a large terrace complete with sun loungers, a hammock and, especially, a private jacuzzi! Get ready for a holiday to remember!
So, make the most of the fine pre- and post-season weather and book a break in the Var, French Riviera-Côte d'Azur at a very affordable price! Our four-star campsite features a magnificent, 2,000 m² water park with pools and water slides. Hurry, hurry! Don't delay – our special offers are very popular with our many returning guests and availability is of course limited! Click "Book my stay" now and see you soon!
*offer valid on bookings of 7 days minimum