Campsite in the Var, French Riviera-Côte d'Azur with a water park awarded the Tourism & Handicap label
Good news! Your favourite campsite is now qualified to welcome all 4 handicaps!
You already know our four-star campsite Les Jardins de La Pascalinette® in La Londe-les-Maures is committed to ensuring everyone has a great holiday… Thanks to the consistent efforts of our teams to provide an ever-better welcome for people with challenges, all the family can now enjoy their camping holiday in the Var, French Riviera-Côte d'Azur in all tranquillity – and with no fuss or constraints.
As of today, our campsite is officially qualified to cater for all 4 – rather than the previous 2 – types of handicap: Physical + Mental + Auditory + Visual!
We are extremely proud and particularly happy to let you know that France's Directorate General for Enterprise and Industry, part of the Ministry of Economic and Financial Affairs, has renewed our cherished Tourism & Handicap label for physical and mental disabilities and has now officially awarded us a certification for 2 additional handicaps that we weren't able to offer until now: visual and auditory.
In the Var, French Riviera-Côte d'Azur and in particular at our campsite, a holiday for all means offering our guests fully-fitted, accessible mobile homes, together with an attentive, personalized welcome for all types of people with challenges, accessible amenities, an accessible water park* and an official quality label! Welcome to the best holiday ever at our campsite!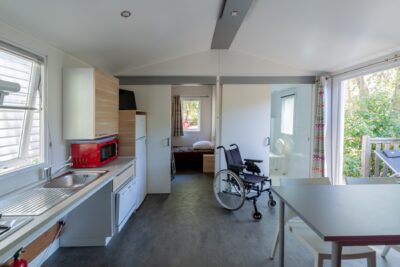 Mobile homes designed and fitted for people with reduced mobility
Discover our four mobile homes specially reserved for people with reduced mobility! Part of our Privilège® range, these air-conditioned mobile homes feature a spacious bedroom with double bed, plus a second bedroom fitted with two single beds. Guests benefit from an access ramp for wheelchairs, an adapted kitchenette and bathroom, and vast living area… In short, our PRM mobile homes are designed to offer guests ideally-accessible holiday accommodation. What's more, they are located right next to our giant water park, which is – of course – also fully accessible!
A water park, services and entertainment accessible to all*
We are evermore committed to offering all our guests a truly fabulous holiday in the Var, French Riviera-Côte d'Azur and we've made effort to ensure our water park is accessible to all. Thanks to our bathing chair, guests with challenges are free to revel in the joys of our water park's heated pools and enjoy delicious moments of relaxation alone, or with family or friends.
At our campsite, you'll also find a plethora of accessible amenities that make life easy while you're on holiday:
PRM accessible games room,
PRM accessible children's clubs,
accessible bar-restaurant,
accessible mini market,
accessible boules courts,
accessible outdoor fitness area,
accessible ping-pong tables, etc.
We believe that a challenge should never spoil your wellbeing and tranquillity on holiday; that's why we are fully committed to updating our amenities on a regular basis and adapting our facilities so that everyone – guests with and without challenges alike – truly has the holiday of a lifetime!
Access ramps, accessible toilets, a bathing chair and much more… Our campsite goes the extra mile for your comfort.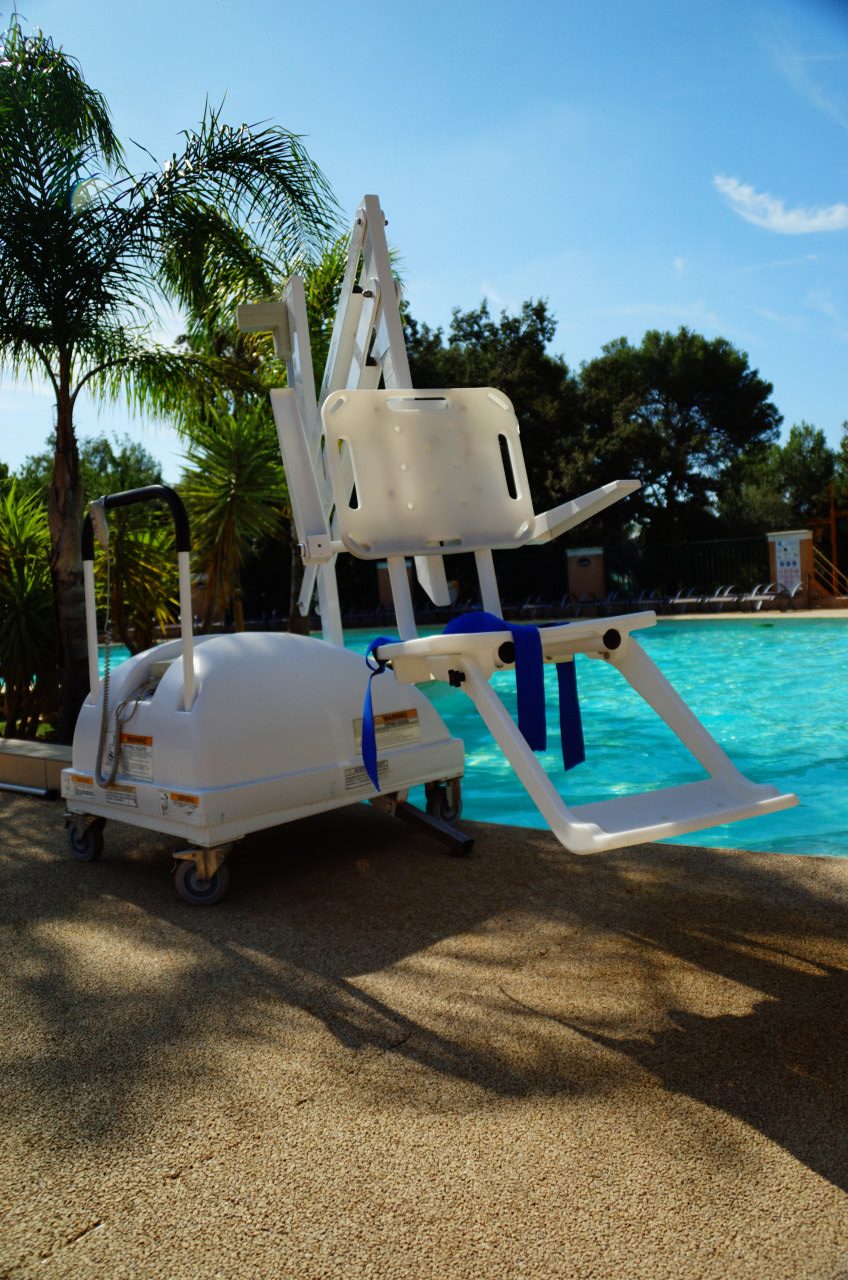 Discover the PRM accessible venues in the Var, French Riviera-Côte d'Azur
Check out our Nos Coins de Paradis® (Our Corners of Paradise), where you'll find a list of magnificent PRM-accessible beaches throughout the Var, French Riviera-Côte d'Azur to savour in all tranquillity. We firmly believe that a handicap should never stop you enjoying your holiday in beautiful Provence to the full!
*except water slides