A family campsite in the Var, French Riviera-Côte d'Azur Var
A family campsite in the Var, French Riviera-Côte d'Azur
Located in La Londe Les Maures in the Var, French Riviera-Côte d'Azur (just 5 minutes from Hyères), Camping de La Pascalinette is the ideal family campsite for a fabulous summer break! Ideally situated between Bormes-les-Mimosas and Le Lavandou, our seaside campsite offers an ideal base for exploring our magnificent region. Whether you're a single parent or in charge of a large family, with young children or teenagers, we have everything you need to ensure you and your clan revel in a holiday to remember!
Our 55,000 m² campsite is fully secured to ensure guests enjoy absolute peace of mind.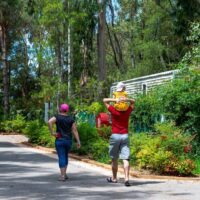 Entertainment, children's clubs and a giant water park at the campsite
Our 2000 m² water park promises hours of fun and relaxation for campers of all ages. Heated pools, water slides, a paddling pool for tiny tots, water games and a zen space for some well-earned peace and quiet… We offer something for absolutely every taste and whim of the moment. We also host a great entertainment programme throughout the summer season so all the family can have fun together (or separately, it's all up to you!).
Fancy a spot of down time and self-pampering? Our children's clubs are open to all children holidaying at the campsite aged 4 to 12 years (two separate groups). What's more, our super entertainment team has plenty of ideas to keep them busy and make sure they have plenty of forever memories of their holiday in the South of France to take back home!
Sporting and manual activities, introductions to archery (our arrows for young archers are fitted with suction pads), magic shows and treasure hunts… A plethora of activities await your children – and they'll be thrilled to tell you all about them at the end of each day!
A vast array of accommodation
When you opt for a camping holiday with us in the Var, French Riviera-Côte d'Azur, you're also opting for a vast range of deluxe, comfortable and novel accommodation. In fact, you'll be spoilt for choice! And it's all at budget-friendly prices too… We are committed to ensuring your holiday rental doesn't break the bank, so we offer affordable mobile homes and pitches adapted to your every need. What's more, our fully-secure campsite guarantees all our guests enjoy absolute tranquillity!
A campsite accessible to all
Whether you're travelling with small children, older kids, reduced-mobility campers, seniors, your partner or whole tribe, our campsite is thrilled to welcome you ALL! Our facilities, amenities and services are designed to embrace all the family and ensure everyone has a wonderful camping holiday in the South of France.
Our Tourism & Handicap label covers all types of handicap and guarantees an adapted welcome for guests with physical, mental, visual and auditory challenges. All of the heated pools of our water park are fully-accessible (with the exception of the water slides) and we have installed a special bathing chair so that reduced-mobility campers can savour the joys of bathing too. We offer accessible PRM accommodation designed and fitted out from A to Z to guarantee top comfort, and our restaurant and mini-market are also easily accessible to guests in wheelchairs. We strive to improve the accessibility of our campsite every year and offer all our guests the holiday of their dreams.
So dive in and book your next holiday at our beautiful campsite today!