A campsite with a giant water park for your holiday in the Var, French Riviera-Côte d'Azur!
Prolong your holiday in the Var with a video tour of your favourite campsite!
Just in case you're missing us, here's a little video tour of your favourite campsite in the South of France!
A little video redolent with sunshine, camping holidays and water park fun, midway between beaches, islands (Porquerolles) and the pretty town of Hyères-les-Palmiers!
Our four-star campsite Les Jardins de La Pascalinette ® boasts a giant water park!
Spanning a vast 2,000 m², the campsite's water park promises to please all the family, from tiny tots who'll love the heated paddling pool, to mature guests who are sure to appreciate the relaxation area complete with massage jets and whirlpool baths.
If you're up for fun and games, you're bound to adore the water park's four water slides (three straight and one curved), four heated pools and water games for all the family.
Blending perfectly into the luxuriant vegetation that has become the hallmark of our campsite, the water park is – understandably – a huge success with our guests!
And if you'd rather simply laze around in the sunshine (or even in the shade), you'll find plenty of sun loungers dotted around our swimming pools.
What's more, our water park is accessible to people with reduced mobility (as are most of the campsite's amenities) thanks to our very easy-to-use bathing chair.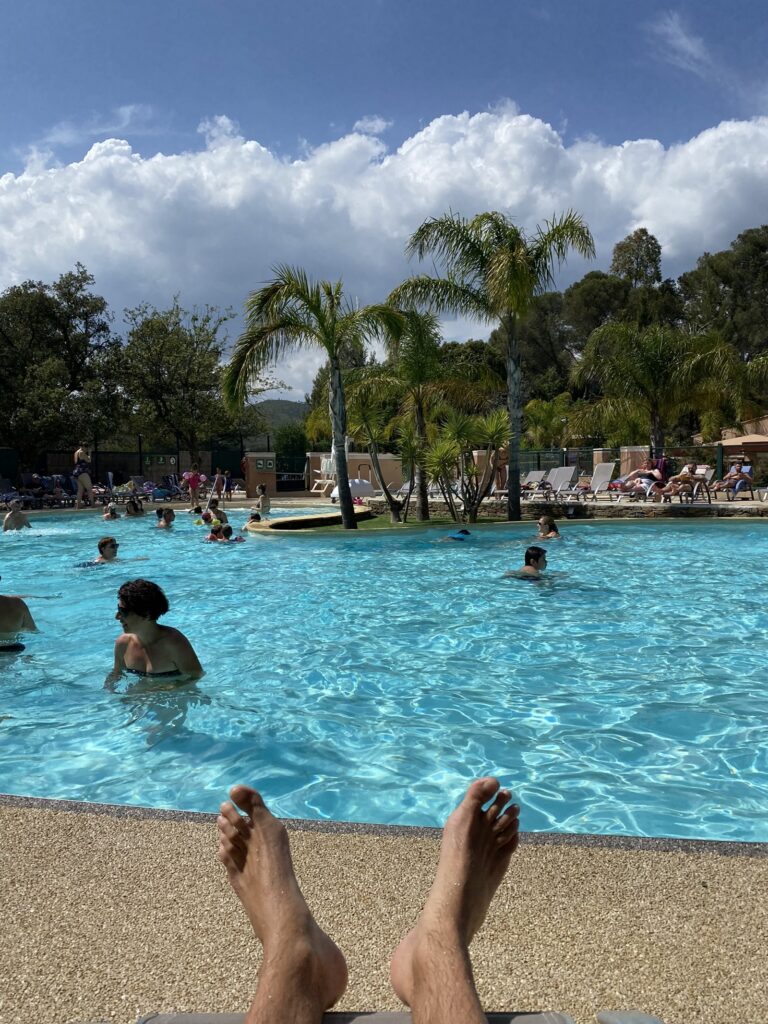 A huge choice of exceptional accommodation
Whether you're a single parent or travelling with a large family, and whether you're spending a romantic weekend with us or a whole week with friends, our four-star campsite Les Jardins de La Pascalinette ®, set facing the Golden Islands off the coast of Hyères, offers the very best choice of accommodation you'll find. Just see for yourself!
Whether you're seeking a nature camping holiday or novel break for 2 to 10 guests in luxury or simple-but-comfortable accommodation, we cater to every single camping dream!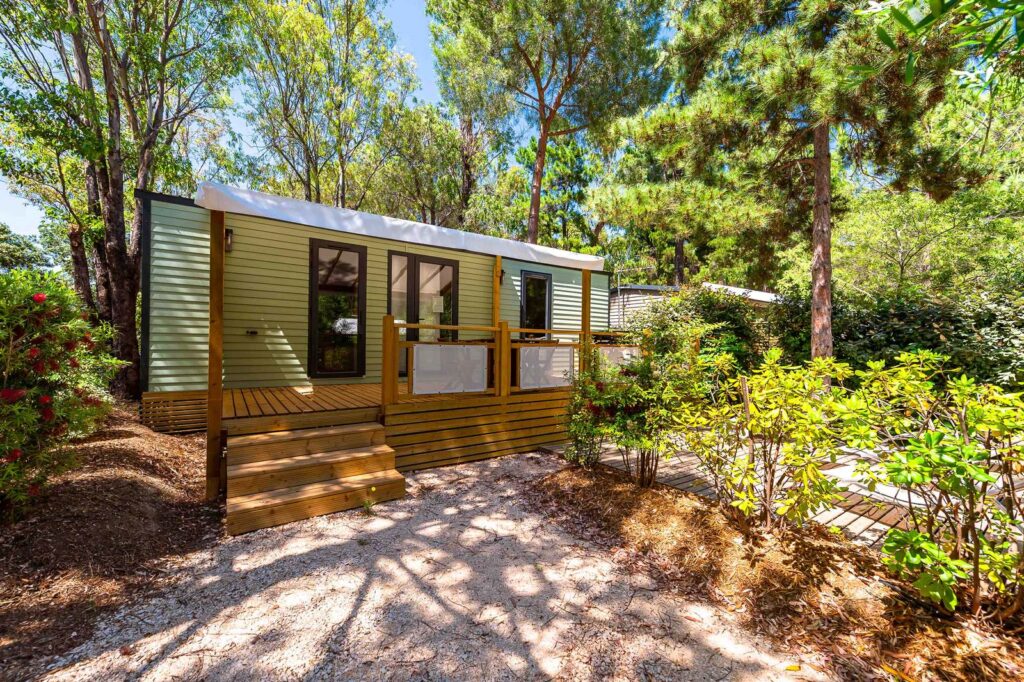 Located in a beautifully preserved area of the Var, French Riviera-Côte d'Azur, our campsite is lucky enough to enjoy an exceptional natural setting! And we want to make sure it stays that way… That's why we are deeply committed to cherishing the campsite's many plants and trees. And our luxuriant vegetation isn't just beautiful – it also offers welcome shade, much appreciated by our campers during the scorching summer months.
We are always keen to introduce our guests to the campsite's many different plant and tree varieties, so a few years ago we decided to create the Décou'Verte ® botanical footpath, now a popular family activity in its own right. Nature-loving and eco-aware, our campsite is the proud holder of numerous quality labels awarded for its resolute commitment to the environment and efforts to protect it.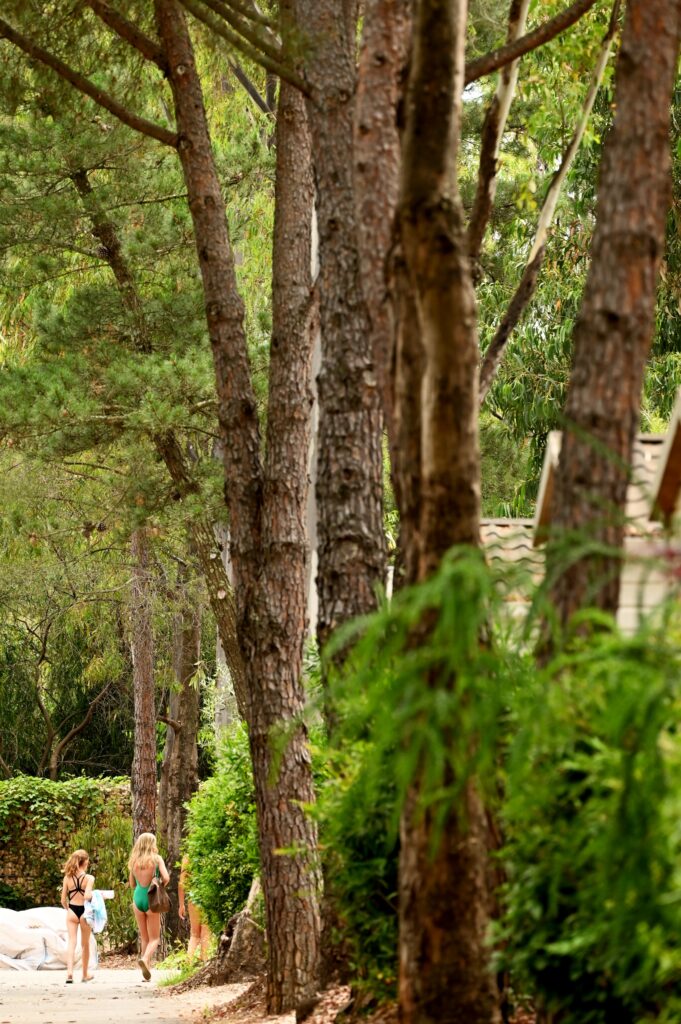 Our campers enjoy plenty of activities, entertainment and evening events too
Holidays are the perfect time to switch off from everyday life and simply have fun! You'll find plenty of daytime activities and evening entertainment at the campsite – in fact you'll be spoilt for choice! Children's clubs, art classes, sports tournaments and fitness lessons… whatever your age, we guarantee you'll find plenty to do at our campsite! And if you fancy discovering the Var area's most beautiful sights (and there are lots), head over to our Nos Coins de Paradis ® (Our Corners of Paradise) page or ask at Reception – our hostesses will be delighted to advise you.
Whether you're a regular at our campsite Les Jardins de La Pascalinette ® or thinking of booking with us for the first time, we hope this little video teaser will prompt you to come and see us (again) soon!