A top-comfort family beach in Bormes-les-Mimosas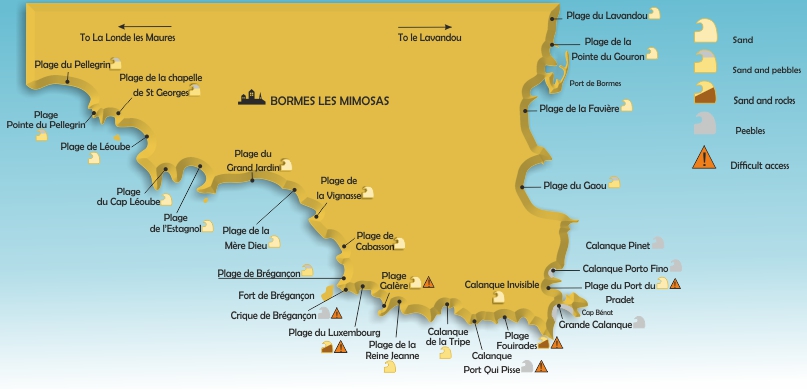 Plage de la Pointe de Gouron beach in Bormes-les-Mimosas is located just a stone's throw from your favourite seaside campsite!
Easy to reach, supervised and well-equipped, this is the ideal beach for a relaxing day out with all the family while you're holidaying in the Var, French Riviera-Côte d'Azur!
Situated around 15 minutes from the campsite, Plage de la Pointe de Gouron is Bormes-les-Mimosas' easternmost beach, just a short hop from Le Lavandou. Set near the port, this sandy beach is easy to reach and offers a car park and picnic area – ideal if you're planning a lazy day on the beach with all the family! Guests keen to enjoy a sporty holiday will love the beach's open-air fitness area complete with a great choice of installations!
Supervised in summer, this pretty, 65-metre beach boasts crystal-clear waters perfect for exploring our sea beds and discovering our Mediterranean marine flora and fauna!
If you want to take the shortest route from the campsite, simply follow the D98 road to Bormes. Once you reach the port, all you have to do is follow the signs.