Escape for a day to the magnificent shores of Porquerolles island during your seaside camping holiday on the Côte d'Azur…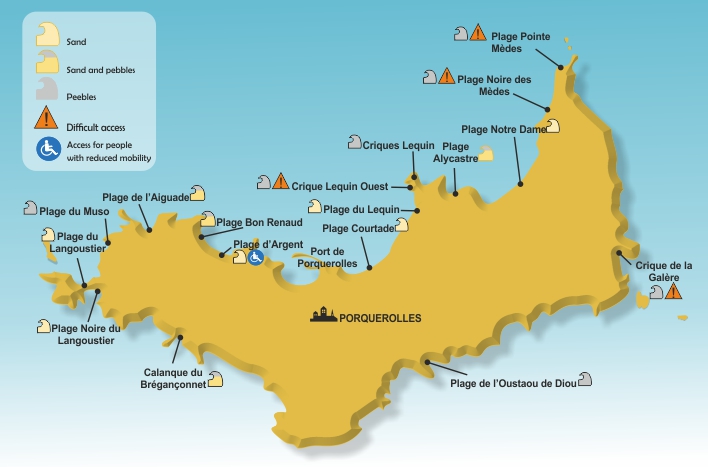 Our four-star campsite Les Jardins de La Pascalinette® in the Var, French Riviera-Côte d'Azur, has hand-picked the region's finest beaches for you. Today, we invite you to discover Plage de l'Aiguade, located to the north-west of Porquerolles island. Composed of sand and small pebbles, it lies after Plage d'Argent and near Cap Rousset.
Wild and intimate, this beautiful little beach is steeped in exoticism. Its translucent waters and lush vegetation are an absolute dream. Far from the madding crowds of the mainland, it is an ode to peace and tranquillity. But you'll need to earn it – Plage de l'Aiguade is about 1 hour on foot from the port. You can stop off there for a refreshing dip during your hike around Porquerolles island. And if you enjoy snorkelling, simply slip into your gear and dive in to explore the island's world-famed sea beds. If you're seeking even more intimacy, head to one of the wild and beautiful little coves next to the beach.
To reach Plage de l'Aiguade, head towards Plage d'Argent, then continue for around 500 metres on Chemin du Langoustier before turning right onto the path leading to the beach.