Pétanque: the holiday sport!
"Alors ? tu tires ou tu pointes ?"….("Are you pointing or shooting?")
If you've never heard that expression, you've probably never hung out on Provence's iconic pétanque courts, in the sunny South of France! People take pétanque (also knows as boules) very seriously around here. The game is a genuine part of local heritage, just like our pastis and cicadas! And woe betide those who come here and claim that pétanque isn't a real sport…
Here at our four-star campsite Les Jardins de La Pascalinette ®, pétanque is a popular leisure activity among novices keen to discover the game while they're holidaying at our campsite on the Côte d'Azur, as well as the "pros" who bring along their own equipment engraved with their name every year. See what we mean when we say people take pétanque seriously here? 🙂
Pétanque is a holiday sport par excellence!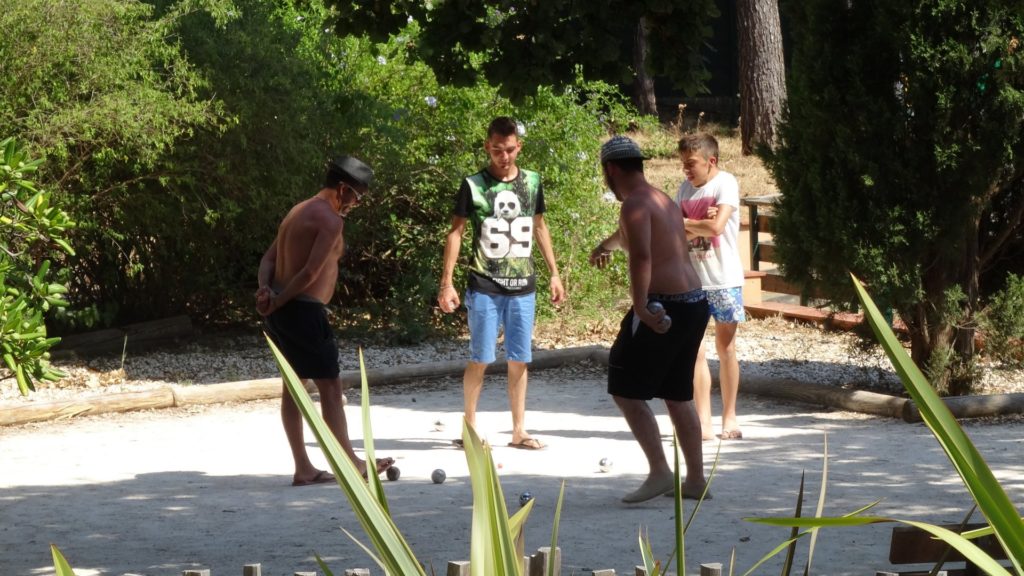 Whether you're travelling with family or friends, pétanque is a great excuse to spend some quality time together! Fun and friendly, the aim of this simple but challenging game is to score points by placing your boules as close as possible to the jack ("cochonnet", a little wooden ball used as a target).
With your feet firmly planted inside the circle drawn on the ground ("tanqué" in French from the Provencal word "tanca": planted and "pèd" feet -> Pé-tanque) you will need to aim at the target, situated 6 to 10 metres away. And it's not easy when you know that your opponent is going to try to "shoot" your boule to push it away from the jack!
There are 13 points to a game but watch out: if the score is 13-0 tradition dictates that you'll have to kiss the backside of the picture of a young lady nicknamed Fanny… The Fanny in question was actually a young woman aged around 20 years old who lived in the late 19th century. She had got into the habit of cheering up the losing team in the Croix-Rousse quarter of Lyon by showing them her bare bottom!
A relaxing moment at the campsite
With 255,590 official players in 2022, pétanque is France's eleventh most-popular sport. Of course, we have to add several million amateur players to those figures: the many people who occasionally play pétanque while they're on holiday, like the campers who train at our boules court every summer! The court is ideally located right next to the campsite shop, so you won't have far to go to grab a refreshing drink!