Visit the "La Banque, Musée des Cultures et du Paysage" museum in Hyères
Things to do on holiday in the Var!
Our holidaymakers often ask us "What sights should we see in the Var"? If you and your family would like to spice up your seaside camping holiday with a spot of culture, just ask the team at our four-star campsite Les Jardins de La Pascalinette ® in La Londe-les-Maures – they're always delighted to introduce you to Provence's must-see sights and, in particular, the highlights of the Var area, French Riviera-Côte d'Azur.
Whether you fancy a cultural, sporty or gastronomic excursion, the Var area overflows with delightful places to visit while you're holidaying at our campsite with family or friends.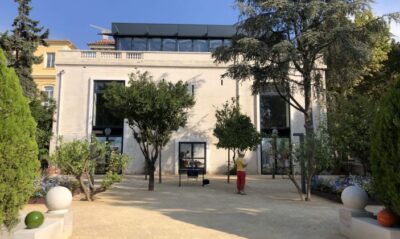 Architecture, Fine Arts, natural sciences and more…
You'll find this astonishing building in Hyères town centre, just a few minutes from your favourite family campsite. Now baptized "La Banque – Musée des Cultures et du Paysage" (The Bank – Culture & Landscape Museum), the Villa Victoria (a property of the Laugier family), used to house the Bank of France. Erected at the centre of a Mediterranean garden, this iconic landmark, boasting fully-restored neoclassical architecture, brings together over 200 works from very varied areas of interest, including archaeology, Fine Arts, ethnography and natural sciences.
Discover the historic face of Hyères
A town of art, with a history dating back over 2,400 years, Hyères-les-Palmiers is well known to holidaymakers for its numerous beaches stretching as far as the eye can see, windsurfing hotspots and, of course, its stunning Îles d'Or Golden Islands: Porquerolles, Port-Cros and Le Levant. We are particularly fond of Hyères here at the campsite and many of the town's sights are mentioned in Nos Coins de Paradis ® (Our Corners of Paradise), so that you too can get to know this magnificent seaside resort in the Var, French Riviera-Côte d'Azur.
A permanent collection on the first floor
Despite being heir to an extraordinarily rich legacy, Hyères-les-Palmiers is lesser known for its cultural and human heritage explored through La Banque's permanent collection located on the first floor of the building (a "Musée de France" museum).
The town's history, seen through the evolution of its landscapes, is explored in detail throughout the 11 rooms situated on the museum's first floor.
Visitors discover a range of photographic works and paintings, together with contemporary installations shown in the former apartment of the Bank manager.
Plus a temporary collection on the museum's ground floor
In partnership with the Fondation Maeght (in Saint-Paul-de-Vence), "La Banque – Musée des Cultures et du Paysage" will be paying tribute to the work of Georges Braque (1882-1963) and, in particular, his engravings and numerous sources of inspiration, until September 25th, 2022. For more details, please check out the Hyères town council website and article dedicated to the museum's temporary exhibition.
The tour continues in the basement, in the astonishing and highly-protected former bank vault – a real treat!
La Banque and its exceptional setting
After your museum visit, how about a relaxing stroll in the alleyways of the magnificent Mediterranean garden surrounding the building? This gorgeous, rehabilitated space measuring over 1,100 m² blends beautifully with the bank's architecture. A former French-style garden, it has been completely redesigned with a more fitting Mediterranean feel.
And of course, nature fans holidaying at our campsite will also enjoy a relaxing discovery walk through the campsite's alleyways on our magnificent Sentier Botanique Décou'Verte botanical footpath, where you'll learn everything there is to know about the various exotic and Mediterranean plant varieties dotted around the site.
So, enjoy a visit to the museum, a stroll around the campsite, a dip in the heated pools of our giant water park and wind up your day at the restaurant of Les Jardins de La Pascalinette® – now there's a plan worthy of the best holiday ever!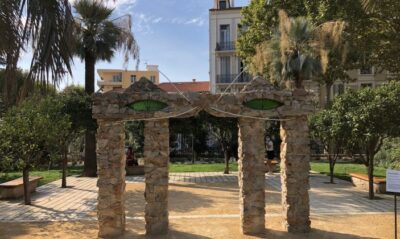 ---
Prices:
Full rate: €7
Reduced rate: €4 subject to presentation of proof (local resident, student, unemployed, over 65 years).
Free: 1st Sunday of the month, Juniors (under 18 years), handicapped visitors, media professionals, members of the "Amis du Musée" association, ICOM, French Ministry of Culture and French Education Pass.
PRM-accessible site.