Secret beaches of the Var area
Located between Hyères and Bormes-les-Mimosas, our four-star campsite Les Jardins de La Pascalinette ® prides in offering guests insider's tips on the best addresses for a day out with all the family in the Var, French Riviera-Côte d'Azur, together with must-see sights in Provence that promise to satisfy your thirst for discovering our wonderful region.
Today, our eco-friendly campsite team is dedicating an article to holidaymakers who, like us, love nature and are keen to explore the region's wild beaches. Of course, a lot of them are harder to reach than the family beaches, but they are well worth the effort: they are less busy than their neighbours and, what's more, their scenery is truly breathtaking!
So here is a little foretaste of the best secret beaches on the Var coast, from our hand-picked Nos Coins de Paradis ® (Our Corners of Paradise) selection. Feel free to share – in moderation! 😉
Plage du Pontillon de l'Escampo Bariou on Giens peninsula
Situated to the south-west of the peninsula, extending out from the town of Hyères, this pebble beach is Giens' wildest. It is difficult to access and can only be reached via the coastal footpath, after crossing the neighbouring Plage des Darboussières. Natural and isolated, this beach, surrounded by a dense pine wood, offers guaranteed tranquillity (even at the height of summer!) on the shores of the Mediterranean. You'll find lots of marine flora and fauna in these protected waters, so we advise you to take along a mask and snorkel to make the most of the show of octopuses, gorgonians, starfish and sunfish…
Plage de la Reine Jeanne – Malherbe in Bormes-les-Mimosas
Reputed as one of the Côte d'Azur's most beautiful beaches, Plage de la Reine Jeanne is located around a hundred metres from Plage de la Galère, to the East of Brégançon Fort. This magnificent stretch of golden sand is reserved only for the most daring bathers, as it is quite challenging to reach (definitely not for children!). Most people actually get there by boat. Sporty beach fans can enjoy walking there via Plage de la Galère, but as certain sections are tricky, it takes about an hour to reach the beach from Plage de Brégançon car park.
The campsite's favourite island, Porquerolles is a little jewel of the Mediterranean, harbouring a plethora of surprises for visitors. In addition to its family beaches such as Plage d'Argent and Plage de Notre Dame, it is also home to more secretive and even little-known spots, such as Plage du Langoustier. Situated on the western part of the island, this beach is only accessible to sporty holidaymakers! It takes around 1½ hours on foot or 50 minutes by bike to get there and lap up the stunning views over the little isle of Langoustier. Fine white sand, translucent waters and tranquillity… The reward is magnificent, but you'll have to earn it!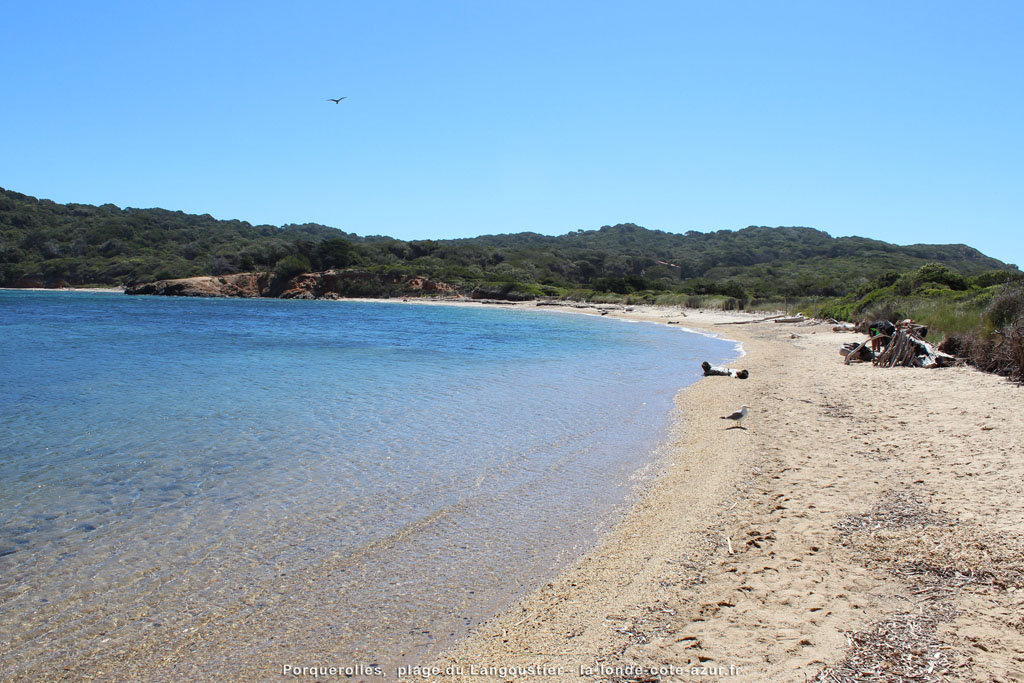 And many more…
Anse San Peyre between La Garde and Le Pradet, Pointe Prime or Pointe de L'Oustaou de Diou on Porquerolles island, Plage du Four à Chaux on Giens peninsula and more… Discover the Var area's most beautiful beaches: a myriad of hidden treasure dotted around the campsite, for the promise of an unforgettable holiday on the Côte d'Azur.
And after your day out at the beach, how about some freshwater fun in the heated pools of our water park?