Port-Cros snorkelling trail
Port-Cros snorkelling trail
(25 mins car ride + boat crossing). Port-Cros, part of the Golden Islands and one of our Coins de Paradis® (Corners of Paradise), is France's first land and sea-based national park.
Even if you have to walk for 45 mins on a steep path, this snorkelling trail, at a maximum depth of 10 m, is truly incomparable (the trail lasts around 30 to 45 mins).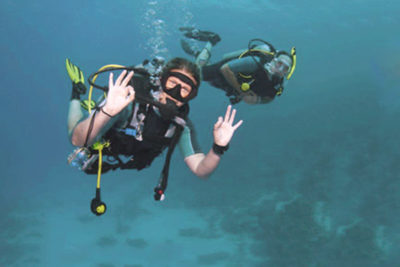 The trail is marked with 6 information panels and is accessible from June to September. It is rated as very easy.
The harbour master's office sells a waterproof guide showing the main species you are likely to encounter (€5).
Access is free – all you need is a mask, flippers, snorkel and maybe a picnic prepared at the campsite!