Discover the Var, French Riviera-Côte d'Azur on an electric bike
Explore the beautiful Var area, French Riviera-Côte d'Azur during your nature camping holiday in La Londe-les-Maures
Our defiantly eco-friendly four-star campsite Les Jardins de La Pascalinette ® is committed to promoting environmentally aware sporting and cultural activities in our gorgeous region.
Today, we invite you to meet our valued partner Dropbikes Rental, specialized in electrically-assisted bicycle hire in La Londe-les-Maures and its vicinity – a wonderfully ecological and original way to explore the Var, French Riviera-Côte d'Azur.
The perfect excursion idea for all the family… Spend a whole day or just a few hours roaming the foothills of our magnificent area, overflowing with verdant hills, wine estates and breathtaking panoramas, without straining your muscles!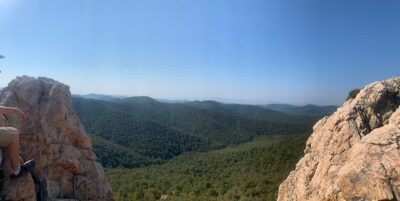 Electrically-assisted bicycle hire and guided tours
Our partner Dropbikes Rental aims to satisfy every expectation and need thanks to their great range of electrically-assisted bicycles. Whether you fancy a tranquil pedal between Le Lavandou and Hyères, a discovery tour of the beaches around the campsite or a sportier escapade in the forest of the Massif des Maures, you'll find the right bike for every need. From eMTBs (Electric Mountain Bikes) to Fat Bikes (bikes with extra-wide tyres for rough terrains), or simple mountain bikes, each model is specially designed for the various activities and touring suggestions on offer.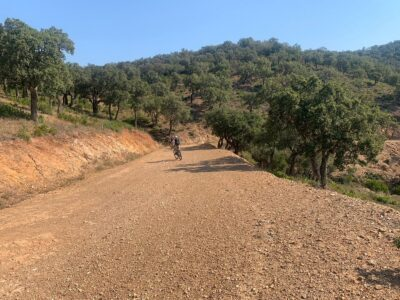 Discover the Var, French Riviera-Côte d'Azur with all the family with a "guided tour" package
If you're not familiar with the region, but still fancy heading out for a tranquil day with all the clan, Dropbikes Rental also offers a range of 3-hour eMTB and classic mountain bike tours in the company of a qualified guide. Explore our stunning Mediterranean vegetation as you roam the surrounding hills and admire the many breathtaking panoramic views on offer in the Var, French Riviera-Côte d'Azur. The exciting choice of tour options between land and sea includes Col du Babaou pass, the Gaoutabry Dolmen, trails around La Londe-les-Maures and even some of our Nos Coins de Paradis® Corners of Paradise! Get ready for an adventure you won't forget in a hurry!
Opt for an electrically-assisted bike tour – it's great fun for kids too!
If your kids aren't keen on cycling or too small to pedal, don't despair – Dropbikes Rental has thought of everything! Simply hire a bike trailer for kids and transform your bicycle tour into a truly extraordinary adventure! Comfortable and extremely practical, the trailers are suitable for one or two children aged 6 months to 6 years. What's more, they're easy to transform into a buggy!
If your kids are aged 2 to 9 years, another fun solution is the tag along bike! Fitted with pedals, this ingenious system allows your child to pedal whenever they fancy, without getting worn out! Safe and stable, tag along bikes are highly appreciated by kids and parents alike.
Accessories for hire with free delivery to La Londe-les-Maures
Dropbikes Rental is also keen to make life easy for our campers! They offer a whole range of accessories for hire including luggage racks, baskets, bike bags and children's seats. But that's not all… your "mounts" are delivered free of charge* straight to your door! (subject to the conditions mentioned on the website).
Straight from the horse's mouth!
The proof of the pudding? One of our campsite guests left this enthusiastic review after trying out Dropbikes Rental: "A real must! 3 enchanting hours at the heart of the Massif des Maures, complete with superb scenery and magnificently preserved flora and fauna. Excellent equipment and guide, and the tour is adapted to your level. We opted for a sporty adventure in the Maures hills with plenty of uphill/downhill slopes, panoramic views and sights, including the Gaoutabry Dolmen."
And once your delightful tour is over, you'll probably fancy a dip in the gorgeous pools of the campsite's water park – what better way to cool off and recharge your batteries?!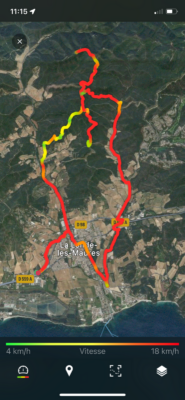 ---
Please call +33(06) 77 16 87 69 for details or check out the Dropbikes Rental website.
*up to 5km from the centre of La Londe