Accessible by boat, 30 minutes from your favourite campsite Les Jardins de La Pascalinette® via Miramar port in La Londe-les-Maures. Free parking.
Sand & shingle beach.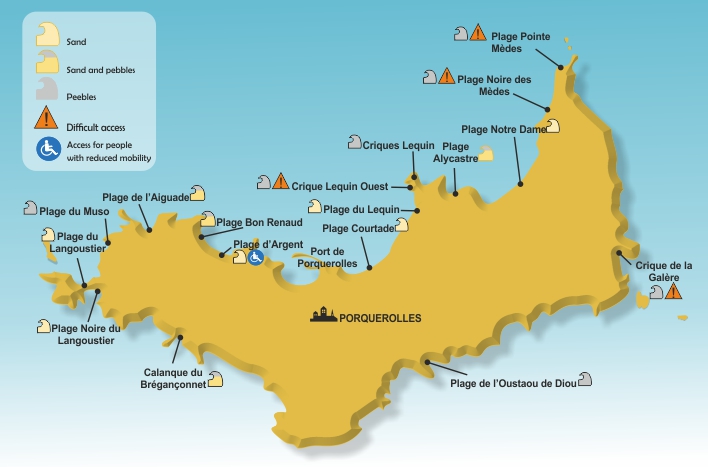 One of our hand-picked Coins de Paradis® (Corners of Paradise) and the perfect pick for a family beach day on Porquerolles island.
Located to the East of the village, Plage de la Courtade is the island's most accessible and largest sandy beach (1 km approx). Ideal for families, it is easy to reach from Porquerolles port (just follow the Notre-Dame trail and signposts to La Courtade – the beach is situated about 800 metres to the East). It takes 10 minutes to get there by foot and 5 minutes by bike from the port.
The beach's north-eastern orientation means it is exposed to the Mistral wind, but sheltered from easterly winds. At the back of the beach, eucalyptus trees and a pine wood offer a delightfully-exotic touch, together with welcome shade in the hot summer months. The shoreline slopes down progressively, alternating sand and shingle, and promises good safety conditions for small children. To the right, you'll find a second beach area after the rocks where the water is shallow up to around 300 metres from the shore.
A water sports centre and public toilets are available at the first beach access point on arrival from Porquerolles port.
Tip: be careful not to leave food out in the open as it tends to attract annoying horseflies.
After a delicious day out bathing in the turquoise waters of the Mediterranean Sea, you can enjoy rinsing off in the heated pools of our water park, or pulling up a chair at the campsite restaurant if you're feeling peckish!