Brégançon Fort near the campsite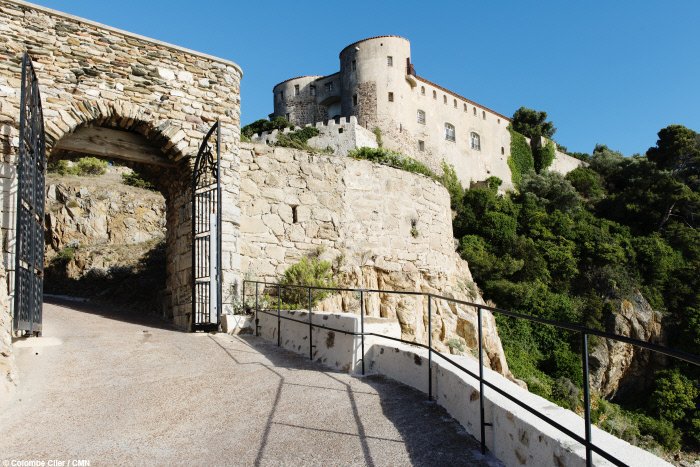 The Var area, South of France, Provence-Mediterranean is packed with history, and Camping de La Pascalinette® is located near a plethora of must-see sights.
A magnificent fort – one of our hand-picked Nos Coins de Paradis® (Corners of Paradise) – is located just 20 mins from Camping de La Pascalinette®!
Set in the hamlet of Cabasson, in Bormes-les-Mimosas, Brégançon Fort was the property of the Count of Provence until 1481. It became attached to the Kingdom of France after the death of Charles V d'Anjou, the last Count of Provence, who bequeathed his county to King Louis XI.
Strategically placed adjacent to the Golden Islands off the coast of Hyères and former silver mines in the town of Londe-les-Maures, operated by the ancestors of the current owners of Camping de La Pascalinette® (Victor and Albert Roux), the fort initially became a trading post before evolving into a military fort in the late 15th century.
It was successively reworked by Louis XI, Cardinal Richelieu, then Napoleon Bonaparte, who assigned it the task of defending the Golden Islands and fitted it with 23 cannons. He also ordered the construction of Cap Bénat fort to protect the Bay of Toulon.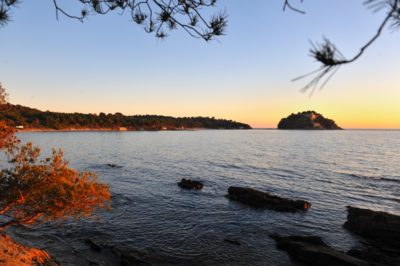 In addition to its military role, Brégançon Fort has also welcomed:
Queen Joanna of Naples and Countess of Provence (she fled her kingdom to Avignon to meet Pope Clement VI in January 1348 and bequeathed the town of Avignon to him in the same year);
King Charles IX who stayed there for several hours during his "Grand Tour", i.e. his tour of his entire kingdom on October 30th, 1564 with the queen mother Catherine de Medici and his court;
No further royals stayed at the fort and it was left under the command of various Provencal captains.
It was Robert Bellanger, a tenant and former Senator of the 3rd Republic, who performed the final work on the fort's layout between 1924 and 1963. It is thanks to him too that Fort Brégançon attracted the first Presidents – his guests included President Auriol, who also owned a holiday home at Cap Bénat in the Var area, and President Coty.
The French State took over the Fort when Bellanger's lease ran out. General de Gaulle was the first to walk in his footsteps, while he was visiting Toulon for the Allied Landings commemoration and inauguration of the memorial on Mont Faron. In 1968, Brégançon was officially named a presidential residence and became the new summer home of France's Presidents.
With its austere architecture, Brégançon Fort appears to be frozen in time… Perched on a rock, at a height of 35 metres above the Var's most beautiful beaches, in an idyllic setting between the beaches of Cabasson and Reine Jeanne, Brégançon Fort is a genuine haven of peace far from prying eyes. Devoid of unnecessary pomp and splendour, this charming property remains simple, yet packed with history and mysteries…
Brégançon Fort is no longer a simple holiday home in the Var – it has become a genuine communication tool and decision-making hub for France's Presidents, who welcome ministers and foreign delegations alike there. Don't miss a visit during your stay at Camping de La Pascalinette®!
® Photos Centre des Monuments Nationaux / Fort de Bregançon