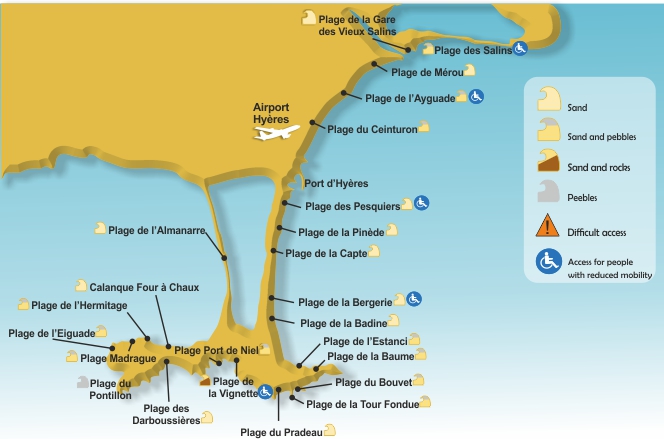 Sandy beach – 17 minutes from Hyères port – Sheltered from winds
Fancy spending time at a natural, intimate little beach located just a few minutes from your favourite campsite Les Jardins de La Pascalinette®? Giens Peninsula in Hyères overflows with wild and charming little coves and beaches. Plage du Four à Chaux, to the West of the peninsula, is one of our hand-picked Coins de Paradis® Corners of Paradise!
Tanning or diving? Just take your pick!
Whether you're planning a lazy holiday or sporty break, Plage du Four à Chaux has something for everyone! Well sheltered from prevailing winds, this narrow little sandy beach nestling at the bottom of Parc des Chevaliers promises magnificent turquoise waters and unique panoramic vistas over Carqueiranne and Le Pradet. It is also the perfect spot for a family picnic in the shade of pine trees… But its best-kept secret resides in its magnificent sea beds! After a maiden dive at the campsite pool, have fun practising at one of the most beautiful diving hotspots in the Var, French Riviera-Côte d'Azur!
How to get there from the campsite?
When you leave the campsite, follow the signs to Hyères port, then the Iles d'Or islands. At the entrance to Giens Peninsula, turn right towards La Madrague. Go past the port then take Avenue de René de Knyff. 300 metres further on, turn right onto Allée des Asphodèles (opposite Chemin de l'Olivastre). The beach is at the end of the lane. You'll need to climb a few steps to reach it.
Photo credits: Hyères Tourist Office