The Tarte Tropézienne, a must for every foodie
If you're holidaying at our four-star campsite Les Jardins de La Pascalinette ® in the Var, French Riviera-Côte d'Azur and fancy trying out some local culinary specialities, simply hop over to Saint-Tropez. Located just a few kilometres from your favourite campsite, this ancient little fishing village is the birthplace of the inimitable Tarte Tropézienne!
A touch of history…
When Polish pastry chef Alexandre Micka arrived in Provence in 1952, he decided to set up home in the village of Saint-Tropez. Keen to introduce the locals to the delicious sponge cake recipe invented by his grandmother, he decided to make and sell it at his cake shop.
This iconic cake found its name four years later, while Roger Vadim was shooting his legendary movie And God Created Woman on location in Saint-Tropez. At the time, Micka, who was in charge of making meals for the film crew, served it as a dessert. Of course, it was an immediate hit!
Brigitte Bardot suggested he call it the "Tarte de Saint-Tropez". Finally, the name "Tarte Tropézienne" was adopted and Micka's cake rocketed to international fame.
You'll find a restaurant and "pâtisseries" (cake shops) dedicated to the "Tarte Tropézienne" in Saint-Tropez, as well as a specialist chain of boutiques located throughout the Côte d'Azur. We definitely recommend a visit if you're staying at the campsite and fancy a sweet treat! 😉
The recipe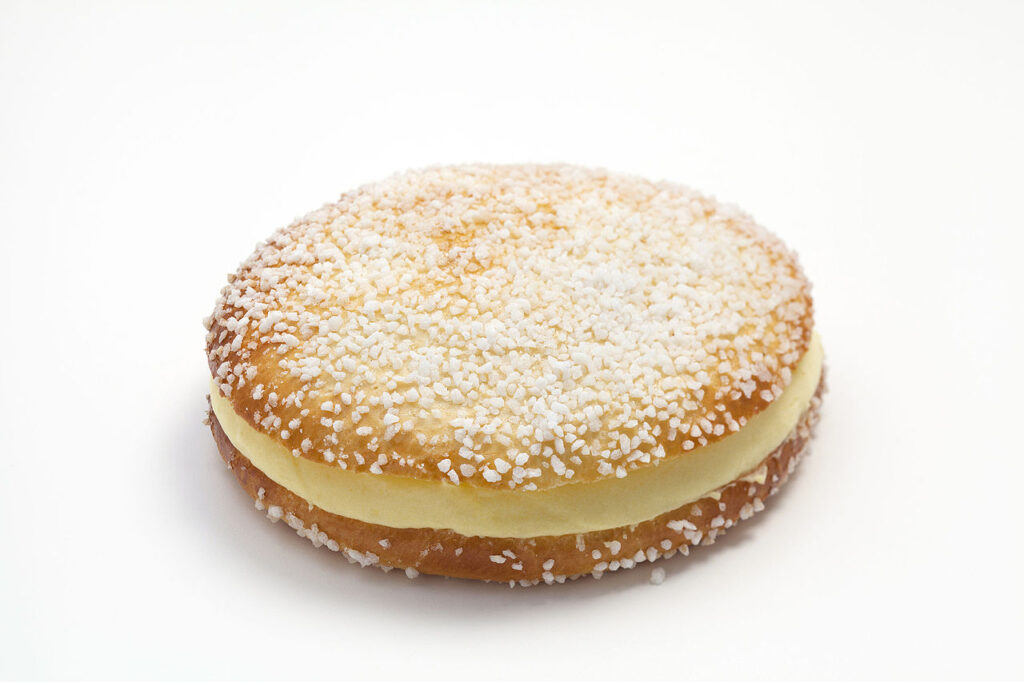 The "Tarte Tropézienne, often referred to simply as "Tropézienne", is a moist sponge cake filled with a mixture of butter cream and custard cream. Sprinkled with granulated sugar, it is sometimes flavoured with orange flower water or rum.
Light and delicious, it is the perfect way to top off a meal or can be enjoyed as an afternoon snack. It is a favourite among the people of Provence, who often prefer it to heavy desserts.
Where to savour the Tarte Tropézienne?
You'll find this speciality on offer at many of the Var area's "pâtisseries" (cake shops). However, if you want to sample the REAL DEAL, you'll need to visit one of the "Tarte Tropézienne" speciality shops: you'll find them in Saint-Tropez of course, as well as Hyères, Toulon and Sanary-sur-Mer…
After spending a few hours having a blast at our family campsite's water park, you and your kids will no doubt be feeling a bit peckish! What better time to discover one of Provence's culinary specialities! You don't have to buy a whole cake either, the "Tarte Tropézienne" is often served in slices too.