Moustiers Ste-Marie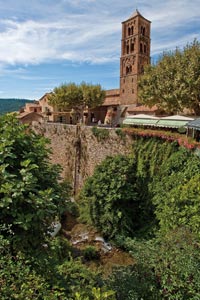 Located just outside the Var area, but still in Provence and adjacent to Lac de Sainte-Croix lake and the Verdon Canyon, Moustiers Sainte-Marie is a gorgeous old hilltop village famed for its earthenware…
Today, it is still home to around ten earthenware workshops.
This pretty village boasts picturesque lanes, together with a natural spring (Source de l'Adou) and the nearby Lac de Sainte Croix lake. A delightful signposted hiking trail leads from the must-see Verdon Canyon up to the village, set teetering on two rocky outcrops overlooking the valley.
Don't miss the area's must-dos during your tour: Notre-Dame de Beauvoir church, Notre Dame de l'Assomption church, the earthenware museum and guided tour of the village hosted by the Tourist Office.
You'll find numerous restaurants on site, including the prestigious Bastide de Moustiers (Alain Ducasse), plus a host of leisure activities (walking, stand-up paddleboarding, kayaking, canoeing, etc.).
Situated 2 hours from Camping de La Pascalinette®, this unique change of scenery promises a relaxing and rejuvenating day out during your holiday in the Var, French Riviera-Côte d'Azur.