Aix-en-Provence, a multi-faceted city
Our campsite team's top tips for a day of relaxation and culture in Aix-en-Provence
I spent 2 years at Aix-en-Provence university, so I particularly love this little town where everything is within easy walking distance.
Located just over an hour from your favourite campsite, Aix is the cultural capital of Provence! Situated about 30 km from Marseille, this world-renowned town overflows with monuments, fountains and gastronomic eateries envied throughout the globe. You'll love the surrounding countryside too and magnificent Sainte Victoire mountain – a massive limestone formation standing over the town and depicted in many works by Cézanne.
Venture out to explore Aix, between two days at the beach in Hyères!
Our campsite Les Jardins de La Pascalinette® invites you to discover the treasures of Aix with a delicious day tour.
Not to be missed: Aix-en-Provence's very own Champs Elysées, aka the Cours Mirabeau! You'll love its majestic plane trees, magnificent stone mansions adorned with sumptuous carved wooden doors, old statues and, of course, countless famous cafés and brasseries such as "La Belle Epoque", set gazing over the town's monuments – the ancient bishopric and 12th-century Saint-Sauveur cathedral to name but a few.
The Pavillon de Vendôme (17th century), Hôtel de Ville (14th century) and Joseph Sec mausoleum (late 18th century) are just some of the other curiosities you won't want to miss. During your tour, you'll undoubtedly come across some of the many fountains dotted around the town: at La Rotonde (1860), at the Hôtel de Ville (1756), on Place d'Albertas, and the Fontaine Moussue (mossy fountain), spouting hot spring water…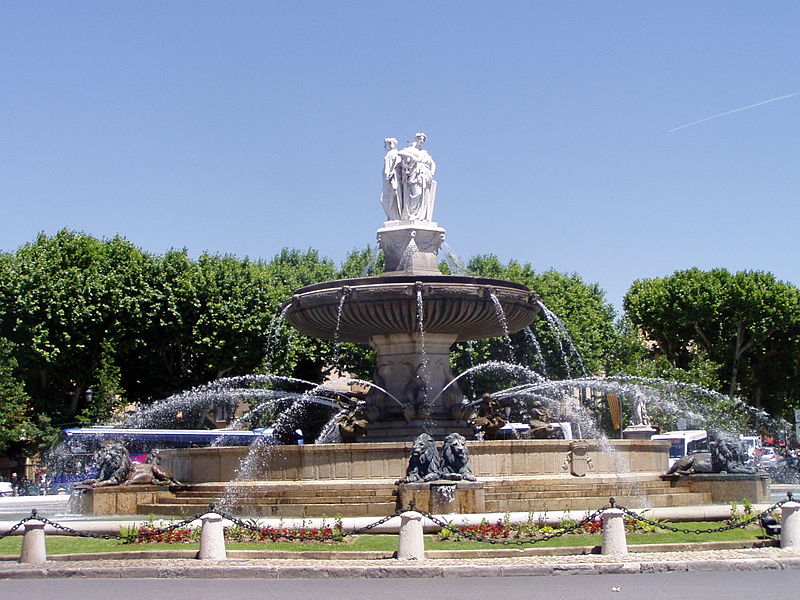 An official Town of Art & History, Aix-en-Provence boasts a rich artistic legacy.
Paul Cézanne fell in love with Aix and today, you can visit the sites that inspired him thanks to a special Cézanne walk, including his studio and garden (children are admitted too!).
The Musée Granet and Caumont Centre d'Art are also musts for art buffs holidaying at the campsite.
Shop 'til you drop!
Aix and its little lanes, trendy eateries and vast array of stores and boutiques are sure to delight shopping fans!
A town of tradition and gastronomy
You'll find many traditional Provencal "Santon" makers in Aix. These small, hand-painted figurines are used to decorate our traditional Christmas crib scenes.
On the gastronomy front, the Calisson d'Aix is a pure culinary marvel! Made with almond paste and shaped like a lozenge, this local candy speciality is often offered as a gift in Provence, along with nougat and candied fruit from the Fabrique du Roi René, or chocolates from the Chocolaterie de Puyricard.
And don't worry about putting on weight – when you get back to the campsite, simply sign up for an Aqua Gym or Zumba class to get rid of those unwanted calories…
Wind up your day trip in Aix with a stop-off at one of the campsite's hand-picked Coins de Paradis® Corners of Paradise, such as Aubagne or Saint -Maximin, before enjoying a welcome dip in one of our pools!